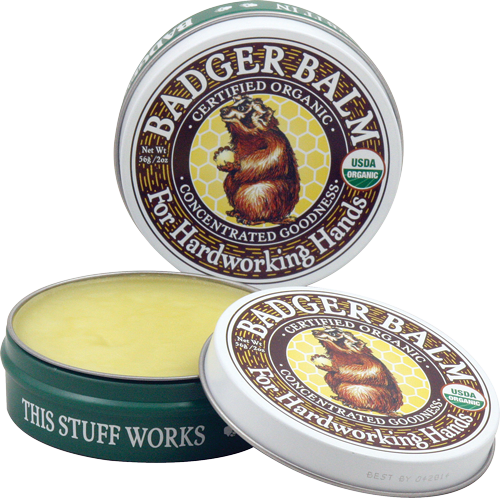 Badger Balm - For Dry Cracked Hands
$ 6.50
USDA Certified Organic

Ultra-rich, ultra-moisturizing balm that will soothe and soften your dry cracked hands, fingertips and skin.
Rub this on to any chapped, cracked, rough, or weathered skin, and be amazed at the results.
Light wintergreen scent - great for men & women.
Contains no petrolatum or chemicals of any kind.
Two sizes available 2 Oz. Tin .75 Oz tin
Badger Balm Ingredients: *Olea Europaea (Extra Virgin Olive) Oil, *Cera Alba (Beeswax), *Ricinus Communis (Castor) Oil, *Aloe Barbadensis (Aloe) Extract, and *Essential Oil of Gaultheria Procumbens (Wintergreen).

* = Certified Organic